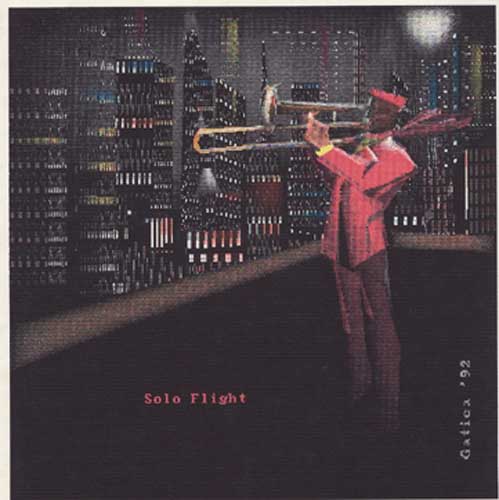 'Solo Flight '
Digital Art
Digital Art | Suicide Poem | Jazzy Art | Jazz Art |
Solo Flight is a poem of how our mediums of expression, get us, artists through lonely, dark times when we are susceptible to potentially dangerous thoughts of suicide...a serious matter.
Read corresponding Prose and Poem below:
Prose: Standing Ovation: Imagine, it is 2 AM, a lone musician finds himself restless, with mind reeling in the middle of the night. He lives in New York city. He has a loft studio in the heart of the city. The backdrop is the New York city skyline. Up on the roof on the twenty-first floor, he can blow his horn to his heart's content and disturb no one...
Depressed and lonely - he's in a mood to play...He blows on the horn, out comes a raspy, low tone that he graduates in a real earthy, blues, jazzy song that, sadly - only he can hear.
The buildings in the back ground are the only audience; they seem to appreciate the tune and stand in what seems a standing ovation.
Copyright, 1995/Artist: Ray Gatica

Solo Flight' poem
There are numerous times in artistsí lives when we find ourselves in a dark pit of loneliness - without friends, family, without any one to share our thoughts and loneliness.
It is times like these that we are most vulnerable and contemplate deep dark thoughts - and perhaps - even suicide...

But, it is also, times like these that we find ourselves with our mediums of expression and we create - to fly out of the pit of loneliness and into the light and safety of a new day!

Copyright, 1995/Artist: Ray Gatica